Stella Maris lives in Cornwall - a place of contrasts. The extraordinary light gives dazzling colours in sunshine but the landscape can also be shrouded in a grey mist so that only silhouettes are visible. Her work mixes vibrant colours with a palette of greys.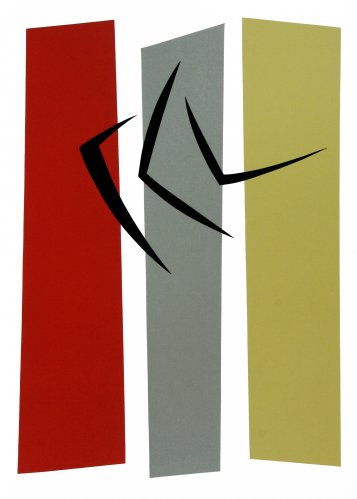 'Colour is the starting point for my work - I love the alchemy of colour relationships. Marks or motifs represent energy and spirit.
Screenprinting allows me to reduce the number of elements in a piece and I am interested in the way that a very few marks can hold so much power. Blocks of intense colour represent landscape and simple, strong shapes are used to suggest movement.
On the Atlantic coast the energy of the sea and the sense of space can be both powerful and calming and these are qualities I am aiming for in my work'.
Selected Exhibitions
Penwith Gallery, St. Ives, Cornwall
Art London, Islington
Watercolour and Original Print Fair, Royal Academy of Art
Northern Art Show, Harrogate
Brook Gallery, Budleigh Salterton, Devon
Curwen and New Academy Gallery , London
Open Space Galleries - Art Ireland, Dublin
Gallery One, Barnes
Yew Tree Gallery, Morvah, Cornwall
Works on Paper Fair, Royal College of Art, London
Schoolhouse Gallery Morvah, Cornwall
Cornerstone Gallery, St. Ives, Cornwall
Babcock & Brown Merchant Bank, London
Affordable Art Fair, London
Millpond Arts Center, New Hampshire, USA
Printmakers' Gallery, St. Ives, Cornwall
Juliet Gould Gallery, Mevagissey , Cornwall