Peter Blake attended Gravesend School of Art from 1949 to 1951. He carried out his National Service in the RAF (1951-53) going on to study at the Royal College of Art in 1953, gaining a First Class Diploma in 1956. Blake received a Leverhulme Research Award to study popular art, taking him to Holland, Belgium, France, Italy and Spain for a year from 1956 to 1957. He went on to teach at St Martin's School of Art, London (1960-1962), Harrow School of Art (1960-63), Walthamstow School of Art (1961-64) and at the Royal College of Art (1964-76).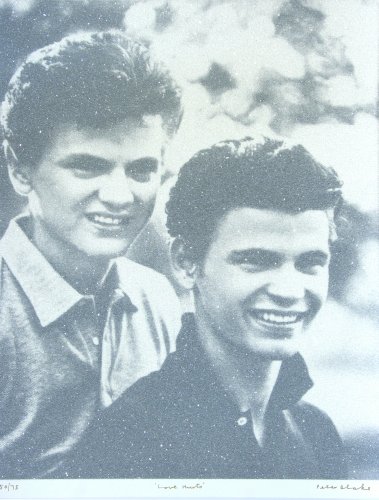 In 1961 Blake received First Prize in the Junior Section at the John Moores Liverpool Exhibition. This led to his first solo exhibition, held the following year at the Portal Gallery, London. Further solo shows followed at the Robert Fraser Gallery, London (1965) and at Leslie Waddington Prints, London (1969). Since the early 1970s, his work has been exhibited regularly in solo shows throughout the world, including the Stedelijk Museum, Amsterdam, touring throughout Europe (1973-74), Galerie Claude Bernard, Paris (1984), Nishimura Gallery, Tokyo (1988) and the Govinda Gallery, Washington D.C. (1992).
His first retrospective exhibition was held in 1969 at the City Art Gallery, Bristol. A later retrospective was held at the Tate Gallery, London in 1983, touring to Hanover. Blake's work has also been included in numerous key group exhibitions on an annual basis since 1954.
In 1975 he was the founding member of the Brotherhood of Ruralists, along with Jann Haworth, Ann and Graham Arnold, David Inshaw and Annie and Graham Ovenden. They first exhibited as a group in the Royal Academy's Summer Exhibition in 1976 and had a major group exhibition at the Arnolfini Gallery, Bristol in 1981, touring to Birmingham, Glasgow and the Camden Arts Centre, London.
In 1985, Blake designed the poster for Live Aid, the world's largest ever multi-national pop concert in aid of famine relief in Africa. Similarly, in 1995 he was commissioned to design the cover of Paul Weller's album, Stanley Road.
Peter Blake was elected Royal Academician in 1981 (ARA 1974) and was awarded the CBE in 1983. In 1994 he was made the Third Associate Artist of the National Gallery, London, and in 1998 he received an Honorary Doctorate from the Royal College of Art, London.
Most recently Sir Peter has designed fabrics for Stella McCartney, as well as the carpets in the new Supreme Court. He is currently working on a series of jacket designs for Penguin books and he has also been commissioned to paint a canvas of St. Martin for the Knights Chapel in St. Paul's Cathedral- the first new artist to be included for several hundred years.
Blake lives and works in London.
Recent solo exhibitions
2006 Fine Art, Design and Antiques Fair, London
2005 Waddington Galleries, London
2001 National Touring Exhibition
2000 Tate Gallery, Liverpool
1999 Morley Gallery, London
1996-97 National Gallery, London (touring to Whitworth Art Gallery, Manchester)
1995 Galerie Claude Bernard, Paris
1993 The Tabernacle Cultural Centre, Machynlleth
1992 Govinda Gallery, Washington D.C.
1990 Waddington Galleries, London
Wetterling Gallery, Gothenburg, Sweden
Public collections
Arts Council of Great Britain, London
Baltimore Museum of Art
Bristol City Art Gallery
British Council, London
Calouste Gulbenkian Foundation, Lisbon
Carlisle Museum and Art Gallery
Kingston-upon-Hull Museum
Leeds City Art Gallery
Museum Boymans-Van Beuningen, Rotterdam
Museum Ludwig, Cologne
Museum Moderner Kunst, Vienna
Museum of Moern Art, New York
Royal College of Art, London
Sintra Museum of Modern Art, Portugal - The Berardo Collection
Tate Gallery, London
Thyssen-Bornemisza Collection
Victoria and Albert Museum, London
Whitworth Art Gallery, Manchester
Wolvershampton Art Gallery
Television
1961 Pop goes the easel BBC Monitor film (Ken Russell)
1983 Peter Blake: Work in Progress BBC2 (John Read)
1988 LWT Arts Festival Programme
1989 LWT Arts Festival Programme
Channel 4 Daily Programme (David Roper)