Ross Loveday, born in Wales in 1946, is a self-taught painter of powerful and very personal interpretations of landscape. Whether on a large or small scale there is an extraordinary immediacy to his paintings which convey not so much a sense of place but the essence of a particular moment.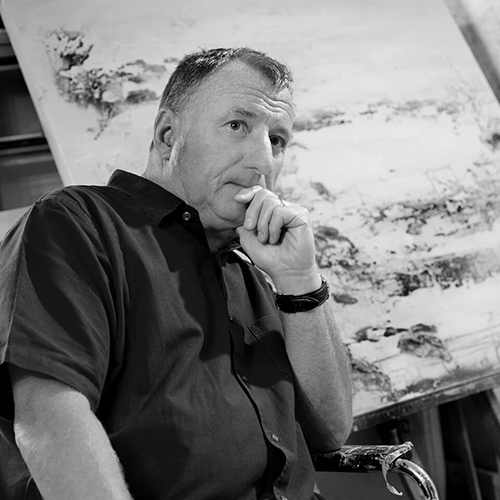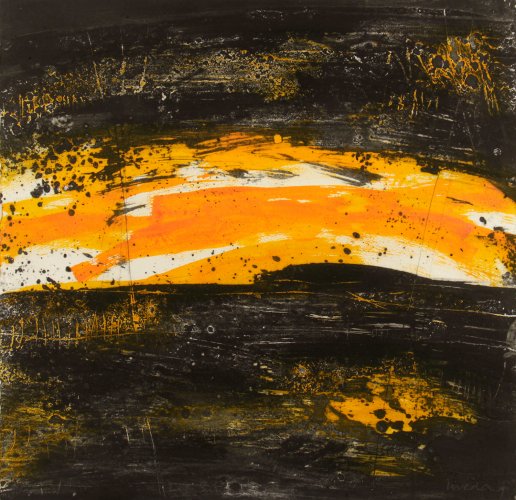 'I am not interested in representing the facts as such, although what is created must satisfy me as being true to life though not naturalistically accurate. The subjects are only the starting points - sometimes small insignificant details trigger a complete painting. Chance and accident are accepted and enjoyed - without this the work sticks and is lifeless. I don't draw much or plan anything out and there's no elaborate set of tools: everything's done with a two-inch brush and when it wears down I buy another one'
---
In January 2021, we asked Ross some questions about his work, the challenges of lockdown, and more...
Ross Loveday: Artist Spotlight
Awards
Laing Art Competition (twice)
Hertfordshire Open
Essex Open
W.E.G award Eastern Open
Julian Trevelyan Prize 2008
Voted "Printmaker's Printmaker" at Printfest 2012.
Prizewinner at National Art Competition East of England
Neo Print Prizewinner 2012
Intaglio Prize RA
Painting "Private Passions " used as the cover for the Contemporary Jazz Group CD - The Printmakers (2015)
Selected Exhibitions
2011
BITE: Artists Making Prints. Mall Galleries, London.
2010
Originals '10 - Selected
2009
Eastern Art Open - print prize
Originals '09 - the contemporary printmaking show
The Arts Club prize
Royal West of England Academy - RWA Open Print
The Intaglio Award
2008
Originals 08 - The Contemporary Printmaking Competition
Royal Institute of Painters in Watercolour Competition - The
Mall Gallery
Discerning Eye Exhibition 5 prints selected by Anita Klein,
Brenda Fenton and Frances Carey
The National Open Art Competition
2007
Solo Exhibition Fairfax Gallery, Chelsea, London
East Anglia Artists, Cambridge Contemporary Art
Royal Academy of Art, Summer Exhibition
Sunday Times Water Colour Competition 2007
West Wales Art/Fishguard 3 Person Show - July/August 2007
Affordable Art Fair, Battersea, London
Mall Galleries, London
Sculpture Gallery, Manchester Town Hall
Friedlander/Sunday Times Watercolour for selected Design 08,
The Mall Gallery
2006
Bircham Gallery, Norfolk (solo show)
Eastern Art, Kings Lynn
Cambridge Contemporary Art - 3 Landscape Artists
2005
Bircham Gallery, Norfolk (solo show)
West Wales Art Centre
Fairfax Gallery, London
2004
Gasgoigne Gallery, Harrogate
Royal College of Art - 'Art on Paper'
2003
Singer & Freidlander / Sunday Times Watercolour Competition,
Mall Galleries
FLAIR - Cambridge Contemporary Art
West Wales Art Centre, Fishguard
Bircham Gallery, Norfolk (solo show)
2002
'The Lie of the Land', CCA Galleries, Cambridge (solo show)
Curwen Gallery, London
2002/03
Glasgow Art Fair
Publications
Printmaker Today Spring '09
Drawing the Line - Gemma Wright talks to Ross Loveday
Ross Loveday's work is held in several public and private collections including HRH Prince of Wales, the House of Lords, British Telecom and Essex County Council.