Robert was born in 1950 at Haywards Heath, Sussex, England. He studied at Eastbourne and Maidstone Colleges of Art, graduating in 1971 with a Diploma in Art and Design in Graphics.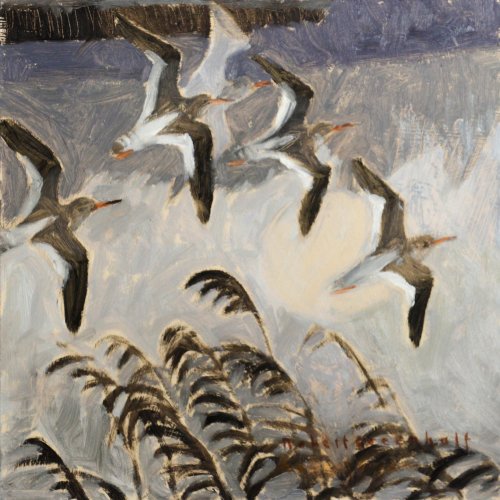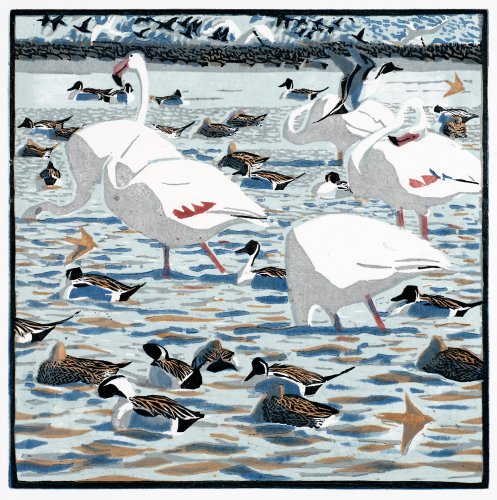 Robert works in Woodcut, Oils and Watercolour. His subjects are mainly Birds and other Wildlife. He places great emphasis upon observing and sketching in the field and his Watercolours are frequently made directly from life. The Oils and Woodcuts are created in the studio, using field sketches and watercolours as reference.
Robert was elected a Member of the Society of Wildlife Artists 1981 and a member of the Royal Society of British Artists in 1982. The book Twentieth Century Wildlife Artists (1986, Croom Helm) and Modern Wildlife Painting (1998, Pica Press) by Nicholas Hammond, contain features on Robert's work, and further examples have appeared in approximately 30 other publications.
He is a member of a group known as the Artists for Nature Foundation, a charity formed in 1991 to focus attention on threatened areas of the World. He visited Poland with them in 1992, Extremadura, Spain in 1994, Wexford, Ireland in 1995 and Utrecht, The Netherlands in in 2005. The resulting highly acclaimed books contain several of his watercolours and sketches, together with comments on his experiences there.
He has also participated in the S.W.L.A. New Forest and Scottish Atlantic Oakwoods Projects which also resulted in books Aig an Oir At the Edge: The SWLA visit Scotland's Atlantic Oakwoods and Drawn to the Forest: The SWLA in the New Forest.
For four years, from 1993, Robert visited the Parc des Ecrins in the French Alps as Artist in Residence In 1999 he was commissioned to provide illustrations of birds for their Atlas of the Invertebrates of the Parc des Ecrins.
He has also worked on a project in The Parc Natural Regional de Briere, Brittany. Robert's work has been shown in many mixed exhibitions and one man shows throughout the U.K., Eire, France, Holland, Switzerland, Spain, the U.S.A. and Canada.
He has also had work hung in the Summer Show at the Royal Academy on several occasions. His work is in Public and Private collections throughout the World.
Robert has written a book: Towards the Sea, an illustrated diary of his work throughout a typical year. This was published by Pica Press (now an imprint of Bloomsbury) in Autumn 1999.
In 2007, Baie de Somme & Rye Bay was published in France by Punch Editions. It is a collaboration between Robert and the French illustrator Noelle Le Guillouzic, a visual exploration of the two Bays on either side of the English Channel.
In 2014 he visited Senegal with three other Artists as part of a project on Bird Migration initiated by the British Trust for Ornithology. A Book 'Flightlines' by Mike Toms and published by the BTO in 2017contains a report of this memorable trip illustrated by some of the images produced