Peter Clayton is a Leicester-based artist originally from the North West of England. His work explores a wide variety of media experimenting with diverse means of expression and he has worked in scale from mini-prints to murals and approaches ranging from graphic representation to abstraction. Most recently inspiration has come from woodland, coastal and urban environments where he tries to capture a sense of place - stillness, movement, stability, change and the fusion of light and dark, form and space.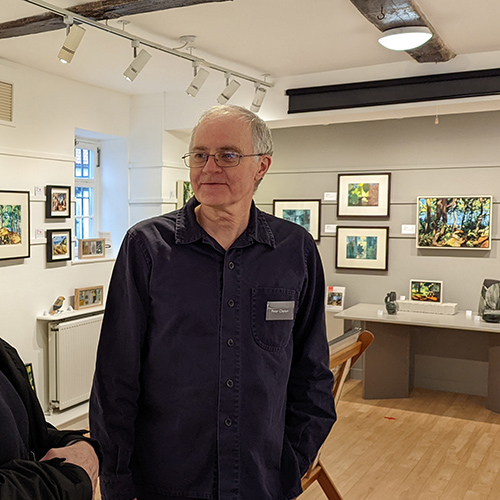 "I enjoy working in, and often combining, a wide range of painting and print media. I explore a range of styles and approaches to picture making depending on the subject matter and what I'm trying to express about it."
Over the past forty years, Peter has exhibited in over 160 solo and group shows in commercial and public galleries throughout the UK. He has undertaken numerous residences and commissions for local authorities, museums, interior designers and publishers and enjoys collaborating with fellow artists. Peter has taught art courses for adults for over 30 years in venues nationally and currently works at Attenborough Arts (University of Leicester), Leicester Adult Learning Services and Leicester Print Workshop where he has a studio.
Selected Exhibitions
Bircham Gallery, Norfolk
Tarpey Gallery, Castle Donington
Attenborough Arts, University of Leicester
St Judes Gallery, Itteringham