John Hoyland RA was born in Sheffield in 1934 and educated at Leighton Park School. He studied at Sheffield School of Art (1951-1956) and then at the Royal Academy Schools (1956-1960). He then taught at the Chelsea School of Art, where he met Patrick Caulfield, who became one of his closest friends, and then at the Slade and Royal Academy art schools.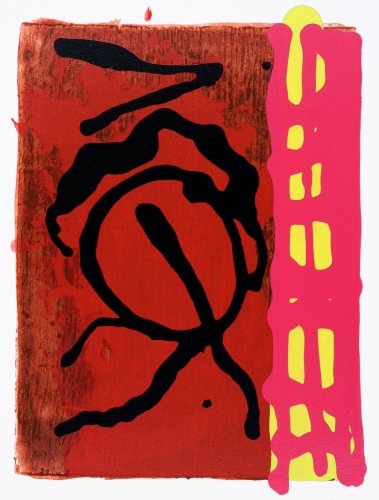 John Hoyland's first solo exhibition was held at the Marlborough New London Gallery in 1964 and continued to exhibit in a variety of one-man shows at the Whitechapel Gallery, the Marlborough New London Gallery and, annually, at the Waddington Galleries.
In 1964 he moved to New York, where the kind of Abstract Expressionism in which he was interested was at a more advanced stage than in London. Hoyland's works are powerful and richly coloured, built up from layers of thick paint. Rivers of colour run over the surface, often focused on a cell-like central focus to the composition.
John was elected to the Royal Academy in 1991 and was appointed Professor of the Royal Academy Schools in 1999. His works are held in many public and private collections including the Tate and The National Portrait Gallery holds portraits of the artist in its collection.
John Hoyland now lives and works in London and is regarded as the leading abstract artist of his generation.