Howard Phipps (b.1954) is a painter, printmaker and illustrator with a special interest in wood engraving. He studied painting at the Gloucestershire College of Art between 1971 and 1975 specialising in engraving since the late 1970's.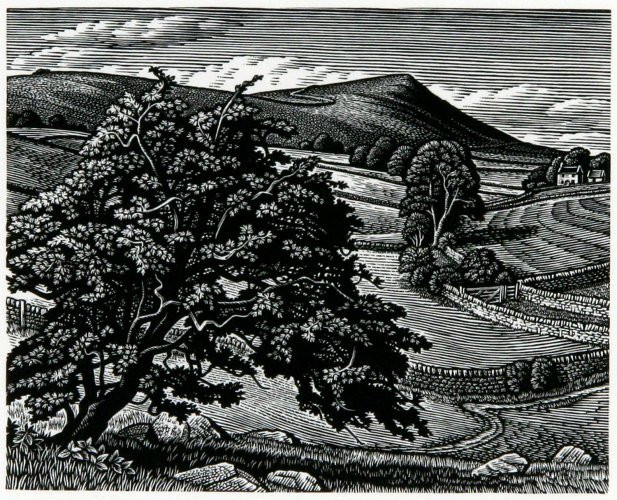 Howard has exhibited widely in group and one-man shows including well-received exhibitions at the Dorset County Museum in 1993 and 1998, The Victoria Art Gallery, Bath, Salisbury Museum, Cheltenham Art Gallery, The Bleddfa Centre in Wales and Elgin Fine Art, London.
Howard is a member of The Royal West of England Academy and the Society of Wood Engravers. He has been a frequent exhibitor at R.A Summer Exhibitions where he was awarded the Christie's Contemporary Print Award for a colour wood engraving. In 2004 he received the Landscape Engraving Prize at The National Print Exhibition in London, for the second successive year.
Howard has illustrated a number of books for publishers such as Bloomsbury, Century, The Fleece Press, Perdix Press, Country Life Magazine and The Folio Society (Charlotte Bronte, Shakespeare and Tennyson's 'Lady of Shalott'). His closest collaboration, since 1980, has been with The Whittington Press who in 1982 published 'Stubble Burning', with poems by Roland Gant, to critical acclaim. They have since published two of Howard's own purely visual books 'Interiors' (1985) and 'Further Interiors' (1992).
The artist has a particular interest in landscape, especially the downs of Wiltshire and Dorset, with their deep coombs and beech clumps. Howard draws directly from observation to capture a recognisable atmosphere and sense of place. He is now widely acknowledged as a leading exponent of his chosen art form.