Hilke MacIntyre grew up in North Germany where she studied at the College of Art & Architecture in Kiel. In 1996 she moved to Scotland where she divides her time between painting, printmaking and producing ceramic reliefs.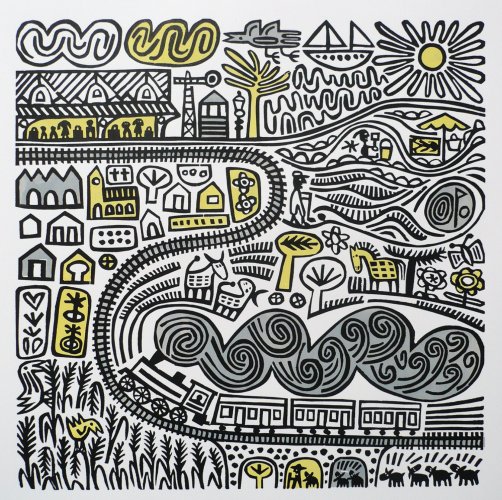 Hilke's work uses a simplified figurative style with strong abstract pattern. Particular influences are 'primitive' art, early 20th Century European art and contemporary design. The limited edition ceramic reliefs are made in editions of 50. An original design is formed from clay from which a plaster mould is made into which new slabs of soft clay can be pressed to et an identical relief. After a first lower firing in a kiln, the reliefs are individually glazed so that each looks slightly different. They are then fired again at a high temperature. Each tile is numbered and signed.
Hilke exhibits throughout Great Britain and has been selected several times for the annual show of the Royal Scottish Academy. Amongst other commissions her linocuts have been used to illustrate publications for the Neuk Musical Festival and the National Youth Choir of Scotland.
Exhibitions include:
2008
Bircham Gallery - Solo Exhibition
2007
Ola Gorie, Orkneys
2006
Stneton Gallery nr Edinburgh
2005
Dundee Contemporary Arts
2004
Dundas Street Gallery, Edinburgh
2003
Eton Applied Arts Windsor
Buckenham Gallery, Southwold
Visual Arts Scotland, Edinburgh
2002
Pittenweem Arts Festival
Peter Potter Gallery, Haddington
Queen Gallery, Aberdeen
Frames Gallery, Perth
2000
RSA Edinburgh