Helen Terry is an artist who works with textiles. Her work revolves around mark-making with dye and stitch, with a preference for processes that leave room for accidental and chance effects.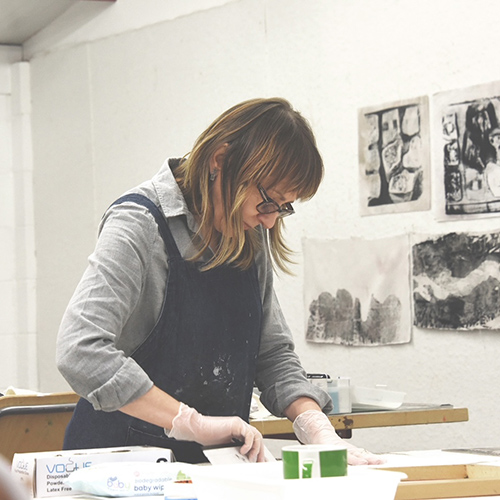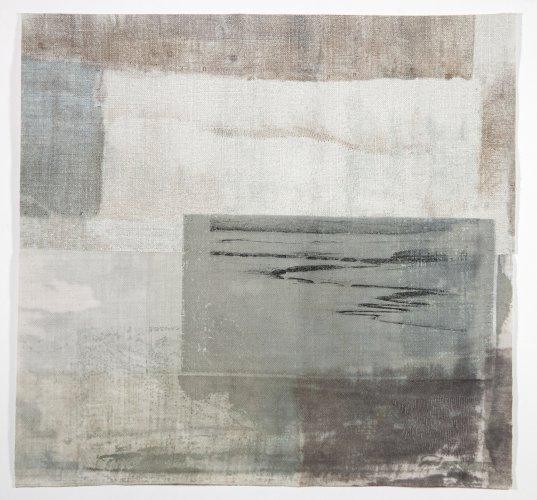 Currently this includes combinations of screen printing, mono-printing and direct application of dye onto antique cloth. She works on both sides, allowing faint marks to show through. The dyed cloth is then cut, torn, layered and stitched to develop relationships between marks and textures.
Helen's work explores themes of ambiguity and change and refers to the landscape of coastal marshes and estuaries where edges and boundaries are uncertain, never quite fixed as one thing or another. Recent work is influenced by the archaeology of the Essex coast, particularly the mudflats around Bradwell where traces of medieval to prehistoric activity periodically emerge from the mud at low tide only to be eroded and re-submerged as the waters rise and fall. A recurring theme is the way we perceive and interpret fragments of information, instinctively looking for meaning or resemblance to something we recognise in the effort to make sense of things.
Helen grew up on farms in Hertfordshire and has spent most of her life in East Anglia, dividing her time between the Essex estuaries and the Norfolk coast and marshes. She has a degree in Ancient & Medieval History from the University of London and has developed her art practice through informal and independent study.
*
Map series:
Inspired by old maritime maps of the Essex and Norfolk coast. Some of these works incorporate hand-written text drawn from Anglo Saxon texts that refer to flooding or sea-faring.
Bradwell Series ("Emergent Occasions"):
Bradwell-on-Sea is at the mouth of the Blackwater Estuary facing the North Sea over extensive mud-flats. It has been a site of human activity stretching back to the Mesolithic and there have been many archaeological investigations in this area. There are a number of "post alignments", some dating back to the Anglo-Saxon era. Their original purpose is now completely obscure and they are alternately exposed and submerged by the tides. These works feature layered screen prints or digital prints of these posts at different phases of the tide.
Creek Series:
This series features imagery of the tidal creeks of Burnham Overy Staithe. These creeks are constantly moving and changing course in the soft muds in a facsimile of the process that has shaped the course of East Anglian river estuaries over centuries. Layering screen prints alludes to this process.