Veteran East Anglian printmaker H.J.Jackson (John to his friends) was born in King's Lynn, Norfolk in 1938. He cut his first lino block during his last year at school in 1953. The small print of a galleon in full sail earned him a place at Norwich Art School.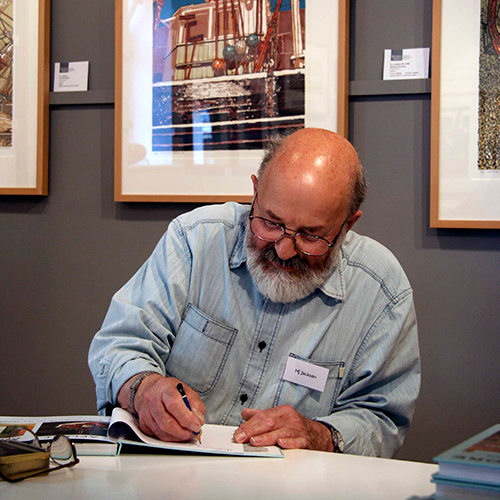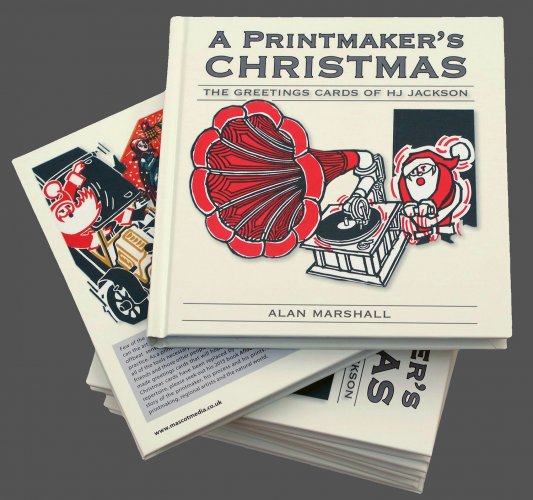 In 1958 he produced his first editioned print. He obtained a National Diploma in Graphic Design, and subsequently worked full time in Marketing and Publicity for 34 years, printmaking during evenings and weekends. Since 1995 he has been able to pursue printmaking full time.
A linocut is a relief printing technique using engraved lino. Working from photographic reference, Jackson produces a drawing to the size of the proposed print. He then plans the number of lino blocks needed, some printing more than one colour. The drawing is photocopied onto tracing paper, reversed and transferred using carbon onto the lino. With drawing ink, he identifies the areas to be retained before cutting using only two tools: a V tool and a small gauge. The different blocks are printed light to dark using oil based inks and pin-hole registration. Jackson's printing is carried out entirely by hand burnishing using a tobacco tin.
The declining fishing industry features strongly in Jackson's work, and he likes his boats to look as if they have been to sea. The multiple layers of ink result in a 'treacly' appearance which helps to gives them the look of working vessels. Mainly devoid of figures, his prints rely instead on the complex and seemingly confusing tangle of fishing gear to suggest the human involvement.
Jackson is a Senior Fellow of the Royal Society of Painter-Printmakers and has exhibited with the society since 1961. He is also a member of the Society of Wood Engravers and an exhibitor since 1967, still regularly showing work within their annual touring exhibition. In 2013, he was presented with the Norfolk Arts Award for Lifetime Contribution.
Jackson has exhibited at Bircham Gallery since 1996, taking part throughout the year in both specialist print and mixed exhibitions.
---
H.J. Jackson: Artist Spotlight - January 2021
Selected Exhibitions include
Bircham Gallery, Holt, Norfolk
The Norwich Print Fair
The Royal Society of Painter-Printmakers exhibitions, Bankside Gallery, London
The annual SWE touring exhibition
Plus various group and solo exhibitions dating back to 1958
Publications include
Norfolk Gems - Alan Marshall, Mascot Media 2017
A Printmakers' Christmas: The Greetings Cards of H.J.Jackson - Alan Marshall, Mascot Media 2016
The Little Chicken Book - Alan Marshall, Mascot Media 2016
Afloat and Ashore: The Linocuts of H.J.Jackson - Alan Marshall, Mascot Media 2015
Printmaker's Secrets - Anthony Dyson, A&C Black 2009