Eleanor Havsteen-Franklin is a printmaker born in 1973 in Aero, Denmark.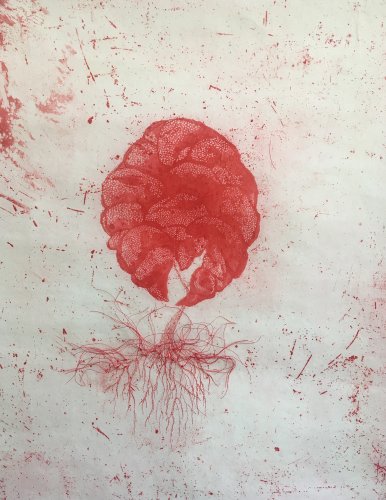 Eleanor studied Printmaking at Camberwell College of Arts, London
Eleanor's etchings form a dialogue between intentional linear drawing and concepts of randomness. During the etching process, foul biting is encouraged on the copper plates creating a relationship between the drawn lines and marks with unpredictable tones and gestures. The lines become heavily etched and the surface of the print textured, emulating the physicality of skin. At times this is investigated further with the use of stitching and sewing into the print creating a more complex texture. The exploration of organic and bodily forms remains a central theme in her work where one is often echoed in the other and the intensity of the colour hues are associated with the subject matter.
Eleanor's work can be found in private collections worldwide, including USA, Belgium, Holland, Germany, Ireland and Denmark.
Selected Exhibitions
Eastern Open, King's Lynn, Norfolk
Royal Academy Summer Show
Printmaking Originals, The Mall Gallery, London
The London Art Fair
Affordable Art Fair, Battersea
Northern Print Biennale, Newcastle
Venice Biennale, Italy
Guanlan Print Biennale, China
Collections
V & A Print Collection
The Organising Committee of Guanian International Print Biennale, China