Elaine Cox, who studied at Saint Martins School of Art, is a painter and jeweller whose work is inspired by landscape. She has undertaken numerous commissions for clients including: Scottish Ballet, EMI Records and the BBC.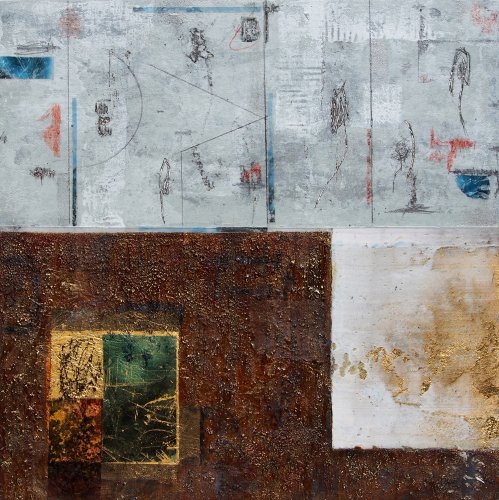 Elaine uses mixed media in her paintings. Avoiding conventional representation she creates multi-layered collages of richly textured surfaces which explore the effects of time, the elements and human activity upon the land to alter, reveal and transform.
Elaine's jewellery has an organic sculptural quality with richly textured surfaces. Working primarily in silver and gold her work explores contrasts; rough with smooth, matt with burnished, light with dark and precious with non-precious. The use of unpolished minerals maintains a link with, and celebrates, the material's origins. Pieces are either one-off, limited edition or made to commission.
Elaine is a Crafts Council Selected Maker and her work is featured on the Goldsmiths Companys' directory 'whos who in gold and silver'.
In 2011 Elaine was awarded an Arts Council grant to fund exhibiting at the New York Museum of Arts & Design and to create a new body of work called 'Contours & Grids: Landscapes for Wearing', inspired by the New York cityscape.
Selected Exhibitions
V & A, London
Alternatives, Rome
Design Yard, Dublin
Lesley Craze Gallery, London
Goldsmiths Hall, London
Electrum, London
Roger Billcliffe Gallery, Scotland
Dazzle, Atrium Theatre, Edinburgh & National Theatre, London
Bircham Contemporary Arts, Holt, Norfolk
Bluecoat Display Centre, Liverpool
King's Lynn Arts Centre
King of Hearts Gallery, Norwich
Montage Gallery, Whitby
CCA Gallery, Cambridge
Smiths Galleries, London
White Gallery, Brighton
Bury St Edmunds Gallery, Suffolk
Cadogan Contemporary, London
St Leonards Gallery, Stamford