Disa Allsopp likes to work with Silver and 18ct Gold in their raw, organic state. Fascinated by the natural textures and colours created when the metals are molten, she uses techniques such as hammering, bleaching (to whiten silver pieces) and oxidising (to blacken silver pieces) in order to shed the glossy look so often associated with gold and silver jewellery and create her subtle but very striking and collectable pieces.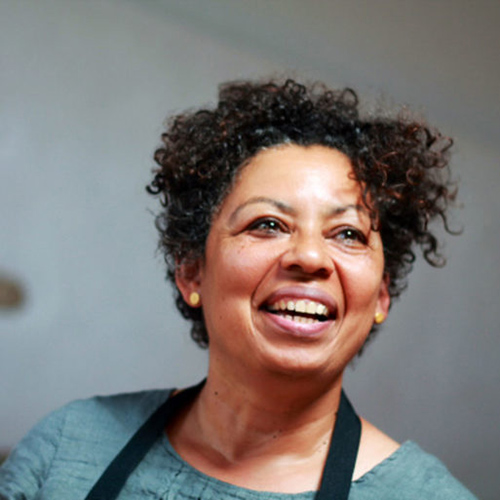 Always inspired by her natural surroundings and the everyday, be it indigenous materials washed up on the beaches of her native Bermuda, a twirling mass of pasta (her spaghetti range) or the human form, Disa makes the everyday precious and her abstract pieces manage to exude both energy and stillness.
Studying first at Middlesex in the early 1980s Disa was apprentice to goldsmith David Thomas before establishing her own workshop in Barbados. In 1993 she moved back to the UK for a painting and life drawing summer school. Such was the success of this that she decided to apply for a Postgraduate in Jewellery from the Edinburgh College of Art where she was introduced to more experimental ways of looking at the human form, did lots of life drawing and started to incorporate her now trade mark miniature figures in to her designs.
Her inspiration flows from Picasso, Giacometti, African Art and fashion illustration. Her work is now shown all round the world and features in a number of city museums and gallery collections.
Selected Exhibiitions
1994
Edinburgh College of Art
New Designers in Business at the Business & Design Centre, Islington
1995
The Scottish Gallery, Glasgow
1995/2000
The City Gallery, Leicester
1995/7/2000
The Oxford Gallery
The Barbados Museum (solo)
1996
The Royal Festival Hall
1996/8 Bonhams
1997
Dazzle, Glasgow
1998
Electrum Gallery, London
1999
New Ashgate Gallery
1999/2000/1
Chelsea Crafts Fair
Sothebys
2000
Eton Applied Arts
2001
Victoria & Albert Museum