Chris Carter creates ceramics whose shapes often allude to man's earliest involvement with the landscape. Some shapes like 'Dolinear' stoneware seem to relate directly to the landscape…a doline is a shallow depression in chalk downland. 'Core' stoneware suggests a connection with flint cores, which are what the flint knapper is left with after he has finished removing blades. The outer cortex of a flint nodule is usually light in colour which contrasts with the dark core.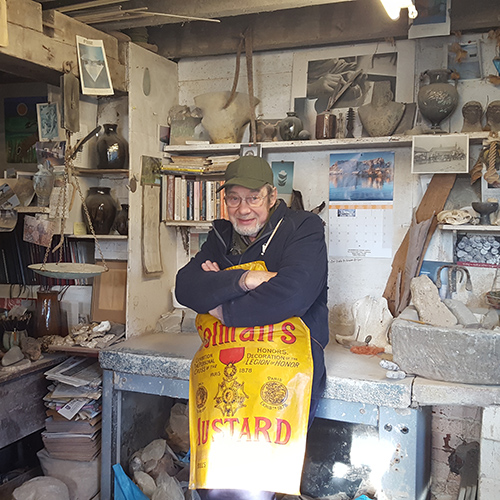 The surface qualities that Chris creates appear to be part of the fabric of the pot, giving a satisfying unity to each piece.
'The farming landscape has always been the inspiration for my work.
Today's pots have moved closer to the source of that inspiration. In them is reflected both my landscape now and a search for those ancestors who farmed it thousands of years ago. The new pots fill my benches like coptic jars preserving the viscera of this landscape.
Looking back, a clear path can be seen from my earliest vases and jars with their twisting facets and flutes through to these 'waisted vessels', 'mask pots', and 'standing stoneware vessels'.
Selected Exhibitions
2000
Hart Gallery, London
Hart South-West, Cornwall
Sofa, Chicago, USA
2001
Eigse Arts Festival, Carlow
Sofa, Chicago, USA
2002
The Ombersley Gallery, Worcestershire
Sofa, Chicago, USA
2003
Maiden Bridge Gallery, Lancaster
Euorop'Art, Geneva
2004
Almeida Theatre, Ceramics used for the play by Edward Albee's The Goat,or who is Sylvia?
2005
Stour Gallery, Warwickshire, joint show with John Emanuel and Emma Maiden.
Hart Gallery, Nottingham
2006
Standing Stoneware - Roger Billcliffe Gallery, Glasgow, Solo exhibition
Hart Gallery, London
2007
Group Show- Summer Exhibition, Hart Gallery, Nottingham