Catherine Headley is inspired by the open, wild landscapes of Scotland, Ireland and West Penwith in Cornwall; their ancient uncultivated lands, their colours and atmospheres and the traces of past civilisations.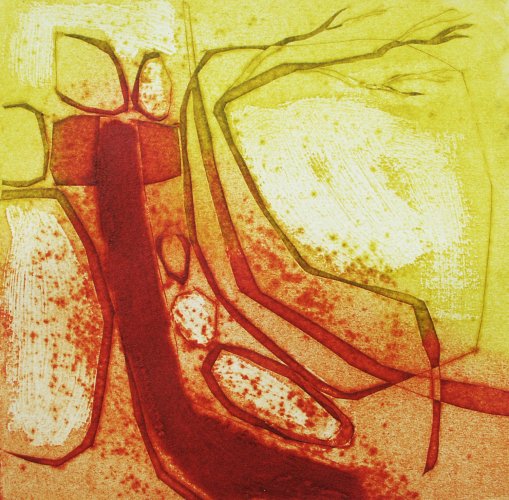 Calligraphic detail is an important factor in Catherine's work. Her imagery comes from a personal visual language that has developed over the years; from standing stones, Latin inscriptions carved in granite, Egyptian picture-script and the signs and symbols of religious and tribal art.
Catherine is a regular exhibitor in the Royal Academy Summer Exhibitions. She is a member of the Leicester Print Workshop and has taken part in residencies in Cornwall and Ireland. In 2004 Catherine was winner of the Leicester Print Workshop prize and the Rutland prize.
Recent Exhibitions
2008
'Originals 08' Mall Galleries
Belgrave Gallery, St Ives, Cornwall
2008/7/6
Woodbine Contemporary Arts, Spalding, Lincs
2007
'Passion2Print' Leicester Print Workshop, Leicester City Gallery
'Postcard from St Ives' Belgrave Gallery, St Ives
Great Atlantic Map Works, St Just, Cornwall
2006
Orange Street Gallery, Uppingham
2003
Printmakers Gallery, St Ives, Cornwall
2002
Rainy Day Gallery, Penzance