Barbara Gittings was born and raised in South Africa and, after studying Fashion and Design, proceeded to pursue a career as a designer and pattern cutter in the fashion industry in London. After starting adult education classes in pottery in 1999, Barbara very quickly became obsessed, reading everything she could find about clay, ceramics, and ceramic artists.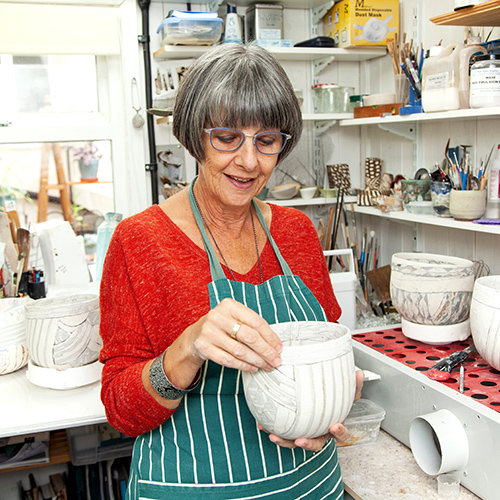 'Early in my clay journey I attended a weeklong course of smoke firing with Jane Perryman, which set me on my smoke firing path. At a term-long intensive course at the City Lit I came across a tiny picture of an ancient Chinese Nerikomi bowl in one of the library books and I was hooked. I spent the next twelve years learning by trial and error, dipping in and out of various adult education courses.'
Barbara works with a grogged porcelain, using Nerikomi techniques. This involves adding oxides or stains to the clay to colour it and then joining, slicing and rejoining layers of colours to build up patterns through the clay. Barbara then slab-builds the pieces. After sanding and biscuit firing to 1046 degrees, the pieces are re-sanded and then further decorated, using various resists. They are then smoke-fired and polished.
'The geometry of patterns in nature is a constant source of inspiration to me. Especially as random chaotic forces, growth, weathering, and erosion push the initial perfect symmetry towards imperfection. I am always exploring this balance between symmetry and asymmetry in my work, trying to capture the imperfect perfection. My work is quiet, contemplative, and tactile. The more one looks, the more one sees.'
Now based in Brighton, Barbara works from a small but perfectly formed studio in her back garden.