Anita Klein PPRE, was born in Sydney Australia and studied at the Chelsea and Slade Schools of Art where she gained BA(Hons) in Fine Art and an MA (Higher Diploma) in printmaking.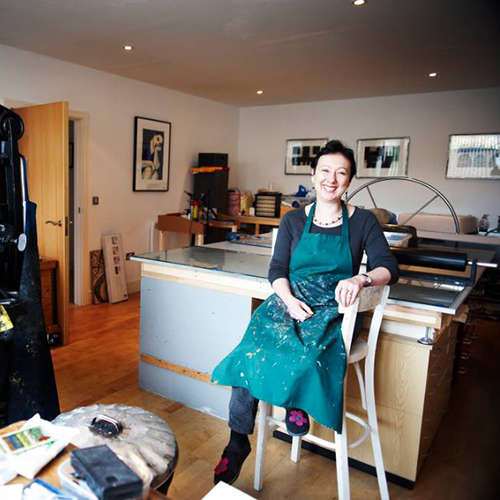 It is quite brave not only to have a subject matter to your paintings these days but also to be fascinated by such ordinary things. There are no desperate attempts to shock, expose or outrage; simply poignant moments showing the things which you would most miss if they were taken away from you. - Helen Smithson for The Ham and High
It is nice to have a real humorist recruited to the ranks of gifted painter. She is to be congratulated on livening up our dreary lives. - Art Review.
I want to celebrate the small moments we all tend to overlook. They're the really important things. - Anita Klein
Selected Public Collections
Arts Council of Great Britain
London University
Leicester Museums Loan Collection
Selected Solo Exhibitions
2008
Advanced Graphics London - new monoprints
Bircham Contemporary Arts - prints
Chelsea & Westminster Hospital Arts - prints
The Fine Art Partnership, Sussex - paintings, drawings & prints
2007
The Royal Commonwealth Society, London - Australian paintings
Fine Art Partnership, Nottingham - paintings, drawings and prints
2006
Boundary Gallery, London - small oils and watercolours
Bankside Gallery, London - new paintings & prints
Advanced Graphics, London - new prints
2005
Greek Printmakers Gallery, Athens, Greece -prints
2004
Bircham Gallery, Norfolk - prints
2003
Helen Gory Gallery, Melbourne, Australia - paintings
2002/3
Advanced Graphics London -retrospective of prints; "20 Years of Printmaking"
2001/2/4
Boundary Gallery, London - paintings, drawings, watercolours and ceramics
2000
Port Jackson Press, Melbourne, Australia - prints
1999/00
Old Town Gallery, Tustin,California,USA - prints
1998/5/00
Cambridge Contemporary Art - paintings and prints
1998
New Ashgate Gallery, Farnham - prints
1997
Leeds City Art Gallery, the Craft & Design Centre - prints
1996/8
Beaux Arts, Bath - paintings (1995 European Art Fair,Ghent, with Beaux Arts)
Awards & Memberships
2007

Best Artist Award by website Fringe Report for show at Castor & Pollux, Brighton Fringe Festival1982-4
Joseph Webb Award, Royal Society of Painter Printmakers
2003
Elected President RE
1995
John Purcell Award, National Print Exhibition, Mall galleries
1995
Elected Fellow of the Royal Society of Printmakers (RE)
1991
John Purcell Award for an outstanding print at the Bankside Open
1982-3
Henriques Scholarship, Slade School of Art