Alison Macleod finds great beauty in collections of old objects as found in junk shops, attics and museums. The memory of a person or of a time past resonates in these forsaken belongings and Alison aims to translate these uniquely precious qualities into new jewellery.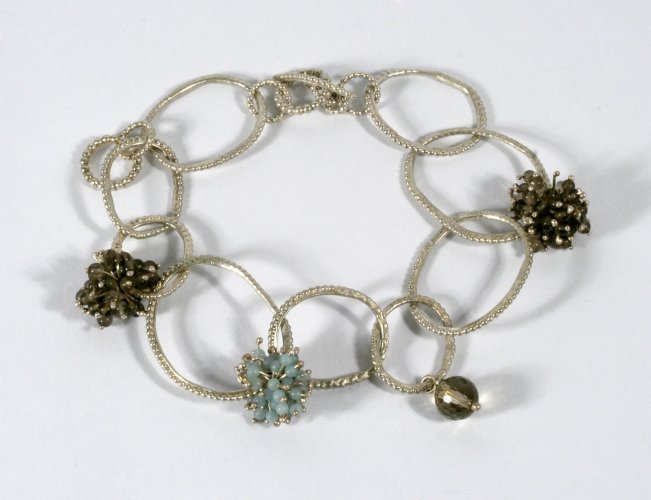 'Human ties to the past are essential. I have spent some time travelling through South America and the west coast of Scotland researching my own family ties and through this, sourcing inspiration.'
Using a wide range of materials, techniques and imagery, she reflects the eclectic nature of her works origins. Beaded wire, which echoes the intense decoration found in antique jewellery, is used alongside individual wax castings, flat pierced shapes, found objects and semi precious stones. The results are unusual, sometimes quirky, often thought provoking pieces.
Ccurrently an Artist in Residence in Ayrshire, South West Scotland, Alison has a workshop at the Dean Castle in Kilmarnock and teaches one day a week in local primary schools.
Recent Exhibitions
2006
New York International Gift Fair, USA.
Jewellery Now, RBSA Gallery, Birmingham.
New Formations, The Light House, Glasgow.
Showcase, Artisanat Contemporary Art and Craft Gallery, Perth.
New Faces @ Spring Fling, Open Studios, Dumfries and Galloway.
2005
Scottish Craft, Top Drawer Spring, Earls Court, London.
New Jewellery, Blackwell, Cumbria.
Focus Case, Dundee Contemporary Arts, Dundee.
Edinburgh Comes To Clerkenwell, Lesley Craze, London.
Contemporary British Jewellery, Bielak Gallery, Krakow, Poland.
Rarefind Autumn, New Ashgate Gallery, Surrey.
Chelsea Craft Fair 2005, London.
Dazzle, Manchester Town Hall, Manchester.
2004
Focus x 3, the Scottish Gallery, Edinburgh.
One Year On at New Designers, Islington, London.
Wish You Were Here, Crafts Council Gallery Shop, Islington, London.
Chelsea Crafts Fair 2004, London.
-Nov-Jan 05, Christmas Collection, Lesley Craze, London.
-Nov- Jan 05, Dazzle, Royal National Theatre, London.