Albert Irvin OBE RA HRWA (1922-2015) studied at Northampton School of Art from 1940 to 1941, before serving as a navigator in the RAF during World War II. He went on to study at Goldsmiths College where he later returned to teach between 1962 and 1983. He also taught at art colleges throughout Britain.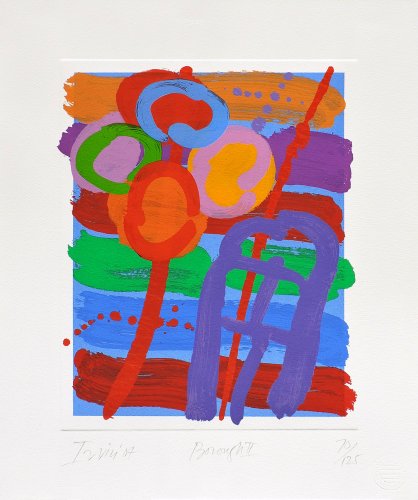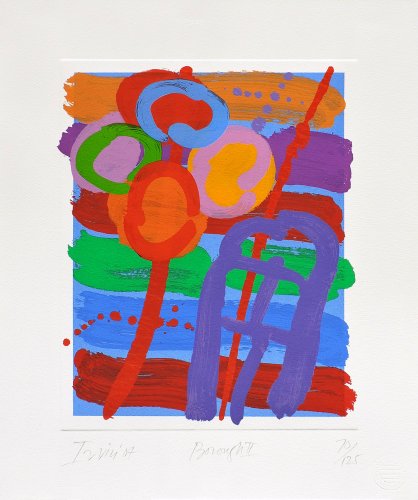 Irvin's first solo exhibition was held in 1960 at 57 Gallery, London. A major retrospective of his work from 1960 to 1989 was held at the Serpentine Gallery, London in 1990. He continued to exhibit regularly at Gimpel Fils, London. Irvin was awarded a Travel Award to America by the Arts Council in 1968 and later received an Arts Council Major Award. He was elected a Royal Academician in 1998.
Irvin's work developed from a time when he considered that in order to give the necessary gravitas to a painting it had to be dark and sombre, through to a growing realisation that high key colour can be crucial in the achievement of full expressive and communicative force. His work has a restless energy and freshness and communicates the sense of an artist in love with his chosen activity.
Selected Exhibitions since 1990
1990 Gimpel Fils, London; Serpentine Gallery, London - toured Spacex Gallery, Exeter and Oriel and Chapter,
Cardiff; Castlefield Gallery, Manchester; Gallery Monochrome Brussels
1991 Peter Scott Gallery, Lancaster University; Playhouse Gallery, Harlow; Flowers East, London
1992 Galeria Punto, Valencia, Spain; Galerie Lupke, Frankfurt; Gimpel Fils, London;
1993 Campo Vlaamse Kaai, Antwerp: Bodilly Gallery, Cambridge; Flowers Graphics, London
1994 Gimpel Fils, London; Powell Moya Partnership, London; Chapter Gallery, Cardiff; Wasserman Galerie,
Munich; Woodlands Art Gallery, London
1995 RHA Gallagher Gallery, Dublin; Original Print Gallery, Dublin
1996 Atkinson Gallery, Somerset; Oriel Theatre, Clwyd; Gimpel Fils, London
1997 Cambridge Contemporary Art; Galerie Stuhler, Berlin; Galerie Wassermann, Munich
1998 Dean Clough, Halifax; Centre d'Art Contemporain, Meymac; Edwin Scharff Haus, Neu Ulm; Vonderau
Museum, Fulda; Galerie Markt, Bruckmuhl; 'Retrospective Print Exhibition 1980-1998', B206-The
Gallery, Advanced Graphics London; Gimpel Fils, London
1999 Royal West of England Academy, Bristol; Orion Gallery Brussels
2000 'A celebration of twenty years of printmaking', Advanced Graphics London
2001 Riverstation, Bristol; 'Paintings and Prints 1991-2001' West Cork Arts Centre, Ireland
2002 'Four Score' Gimpel Fils, London; 'Prints', Advanced Graphics; 'Malerei', Galerie Stuhler, Berlin
2003 'Albert Irvin - Paintings and Prints', Storey Gallery and Peter Scott Gallery, Lancaster; 'Recent Paintings',
Peppercanister Gallery, Dublin
2004 'Midsummer', Gimpel Fils, London
2005 'New Monoprints and Editions', Advanced Graphics London
2006 'Recent Paintings', Peppercanister Gallery, Dublin
'Urban Journey', Gimpel Fils, London
2008 'Recent Paintings', Peppercanister Gallery, Dublin
'Six Paintings', Kings Place, London
'A Retrospective', Kings Place Gallery, London
'The Nebraska Suite', Advanced Graphics London
'Albert Irvin', Manton Wing, Tate Britain, London
2009 'A Retrospective', University Gallery and Baring Wing, Northumbria University
'Peintures Récentes', Galerie Gimpel and Müller, Paris
Chelsea Arts Club, Gala Exhibition
2010 'The Current Prints', Advanced Graphics London
'The Complete Prints', Kings Place Gallery in association with Advanced Graphics London
2011 'Inextinguishable', Gimpel Fils, London
'Albert Irvin', Bohun Gallery, Henley-on-Thames in association with Advanced Graphics London
2012 'Albert Irvin at 90', Clifford Chance, London
'Fidelio', Gimpel Fils
'Royal Oak', Advanced Graphics London
2013 'Crosstown' Advanced Graphics London
'The Complete Prints', Atkinson Gallery, Millfield, Somerset
2017 'Early Work', Whitford Fine Art, London
2018 'Albert Irvin and Abstract Expressionism', Royal West of England Academy, Bristol
Public collections
Aberdeen Art Gallery
Art Gallery of New South Wales, Sydney
Arts Council of Great Britain
Birmingham City Art Gallery
Blackburn Art Gallery
British Council
Huddersfield Art Gallery
Irish Museum of Modern Art, Dublin
Manchester City Art Gallery
Mappin Gallery, Sheffield
Neue Gallerie der Stadt Linz, Austria
New England Regional Art Gallery, NSW, Australia
Pensecola Museum, Florida
Schindler Collection, Zurich
Städtische Kunstsammlungen, Ludwigshafen, Germany